VAN DAELE & ASSOCIATES, INC. LEAN T3 TRAIN THE TRAINER SYSTEM
T3 WORKSHOP FOR THE SUBJECT-MATTER-EXPERTS
This workshop will certify your Trainer's on how to train adult learners, direct TS/ISO training gap analysis, and achieve performance-based competencies to improve processes, procedures and skill sets for sustainability.
Your Trainer's will learn how to use a 3–Stage Training System with a 4–Step Training Method for consistency, sustainability and residual return-on-investment. The System and Method can be used repeatedly for any type of training at no additional cost to achieve performance consistency in Lean and other training situations.
In your sessions you will use the book 50 One–Minute Tips for Trainers by Carrie A. Van Dale, Published by: Logical Operations.
YOUR TRAINERS WILL LEARN
How employees learn new processes, procedures and skill sets
---
How to prepare, present and follow-up on any training program
---
How to introduce and explain a concept and skill for best practices
---
How to select the best training methods and applications
---
How to prepare for classroom and on-the-job training
---
How to handle your frustrated employees who find it difficult to learn
---
How to organize training materials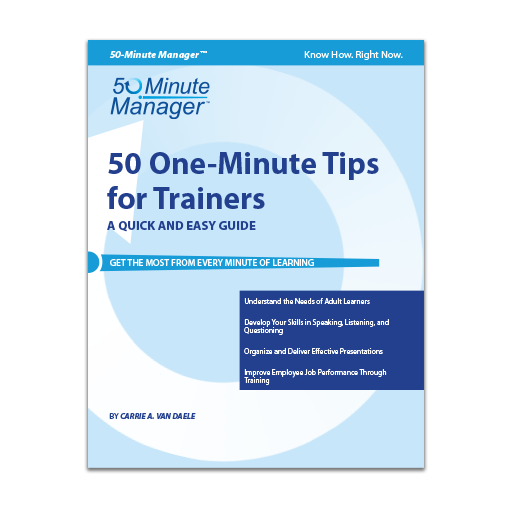 INTELLECTUAL PROPERTY LEVERAGING
T3 is an advanced workshop for Subject-Matter-Experts (SME's). This workshop is about how Intellectual Property (IP) impacts the bottom line; and if wasted will harm the effects of Lean results. Your SME's will learn to compute the utilization capacity of IP by learning how to effectively train adult learners.